Two Thai Buddhist monks killed in temple shooting
Two Buddhist monks have been killed in temple shooting . The Buddhist Monks fatally shot and two others wounded inside a temple in southern Thailand.
Witnesses described seeing gunmen dressed in black arrive on motorbikes before storming the Rattanaupap temple, shooting the monks at close range.
No one has claimed Friday's attack, but it took place in Narathiwat province near the border with Malaysia, which for years has seen rebel violence.
Muslim separatists there are fighting the Buddhist-majority Thai state.
Some 7,000 people, mostly civilians, have been killed since the insurgency began in 2004.
The violence in the region has resulted in the deaths of at least 23 monks, according to the campaign group Human Rights Watch (HRW).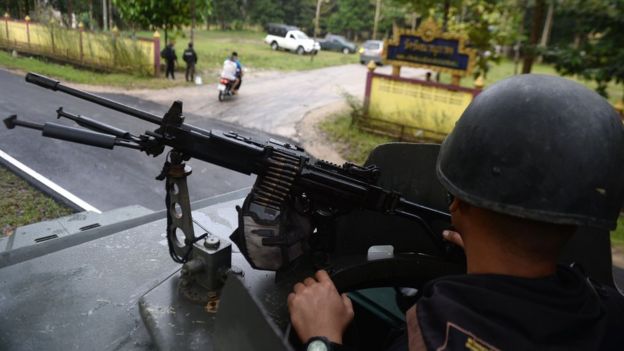 Muslim and Buddhist leaders have both condemned the attack.
Prime Minister Prayut Chan-o-cha said the shooting was an "outrageous act" and vowed to punish the perpetrators.
"The cause of the conflict in the south is originally between the government and locals. But this is an attempt to turn the conflict to be between two religions," she added.
She said there are victims on both sides, noting that on 11 January, an Imam was gunned down.
A lack of transparency in the judicial system makes it difficult to assign blame for the violence, said Ms Pornpen, who also heads the Cross Cultural Foundation, which monitors and documents cases of torture and ill-treatment.
Prime Minister Prayuth Chan-ocha condemned the violence and ordered security officers to find the culprits, said government spokesman Puttipong Punnakanta.