When Inter signed Mateo Kovacic at the age of 18 they were acquiring the signature of one of Europe's most coveted teenage prodigies. There was hardly a major club on the continent that had not had their eye on the midfielder from Dinamo Zagreb. It was clear that Inter, the club with which he had once trained as a 10-year-old boy, had pulled off a coup.
Croatian legend Zvonimir Boban described Kovacic at the time as "the complete midfielder" before adding: "I would say that he has the potential to become a better player than I was." The iconic Inter captain Javier Zanetti swiftly declared that this was the most promising youngster that he had seen at the club since the great Ronaldo rocked up there in 1997.
It was always going to be tricky to live up to those expectations, especially when handed the No 10 shirt. Kovacic was in and out under Walter Mazzarri in the 2013/14 season and the situation did not improve once Roberto Mancini returned to the San Siro. He was urged to work on consistency but how was that supposed to come without consistency of selection?
He was sold to Real Madrid in 2015 just days after Zanetti had declared that the club had "total faith" in him, but with Inter no nearer to solving the Kovacic conundrum. Goalkeeper Samir Handanovic insisted that he had "the ability to become the best player in the world in his position". The problem was that it was still not clear what that position was.
Boban saw this flexibility as an asset but it did not always feel that way for Kovacic. In Italy, he was a left-winger and an attacking midfielder as well as a deep-lying playmaker. He took Andrea Pirlo and Luka Modric as reference points – "I like to be in the heart of the action" – but others disagreed. Giovanni Trapattoni described him as "a mix of Kaka and Seedorf".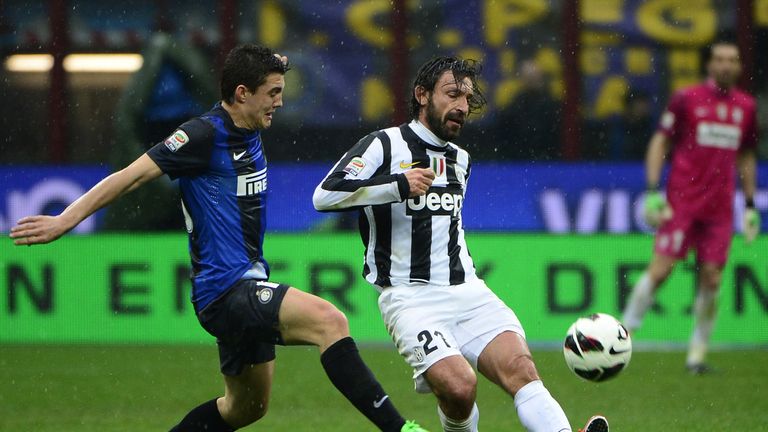 Anyone who can be compared to no fewer than three of AC Milan's classic Champions League winning team of 2007 evidently has an unusual skill-set. Kovacic can dribble but he likes to play from deep. He does not have the defensive qualities preferred in a holder but is not purposeful enough as a No.10 either, where goals and assists are the only currency.
Andrea Stramaccioni, his first coach at Inter, worked this out pretty quickly. "He won't be playing in the hole as he did as a kid," he had explained, while also noting that Kovacic "does not give you that protection in front of the backline" either. Classy and elegant, yes. But it is tempting to wonder whether Kovacic has too often been defined by what he is not.
"He is not a typical defensive midfielder," pointed out then Real Madrid coach Rafa Benitez upon Kovacic's arrival in the Spanish capital. "He offers quality. He goes forward, he's dynamic, and uses the ball well." He did all of those things throughout his three seasons with Real Madrid – and the statistics highlight this rare combination of gifts.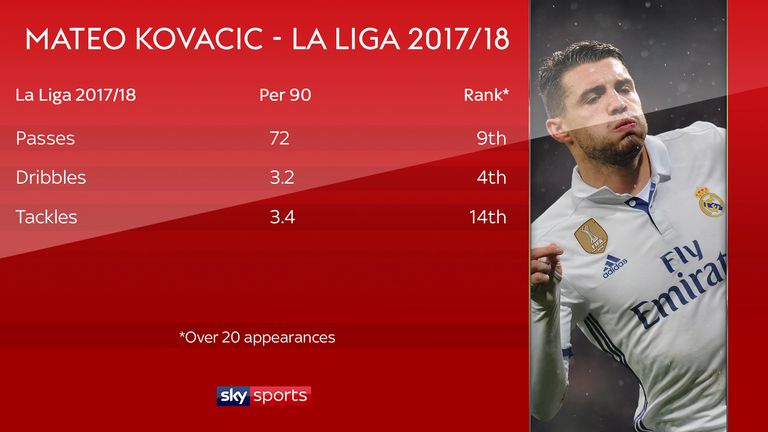 Kovacic ranked fourth in La Liga for completed dribbles per 90 minutes last season. He also ranked ninth for total passes per 90 minutes and 14th for tackles. Nobody else in Spain was among the top 25 players in the competition for these three disciplines. Kovacic clearly contributed, but only intermittently. Eleven of his 21 appearances came from the bench.
In total, he has made 109 appearances for the world's most successful football club, concluding each of his three seasons there with a Champions League triumph. Just as telling is that he has not started in any of those three finals. It sums up his career so far that he was involved in five of Croatia's seven games in Russia this summer but not the World Cup final.
At 24, there is plenty of time to become the heartbeat of a team with the matches to match the medals. It took time for Pirlo to find his natural role but he eventually flourished only when a team was built around him. It was impossible to persuade Real Madrid to do that for Kovacic. It is unlikely to be the plan that Chelsea have for their latest loan signing either.
Maurizio Sarri already has his playmaker in Jorginho, nobody can rival N'Golo Kante in that box-to-box midfield role and Chelsea have various creative options further forwards. But Kovacic can be an asset in any of those positions. Perhaps the flexibility that has proven so problematic in his career so far is precisely what appeals to his latest employers.
That is good news for his prospects of getting on the Stamford Bridge pitch. It is rather less clear whether this increases or decreases his chances of evolving into the consistent world-class performer that many fine judges have long expected him to become. It is still exciting. Premier League audiences are about to get a close-up look at the Mateo Kovacic enigma.
Comment below to get involved in the debate, but please adhere to our House Rules. If you wish to report any comment, simply click on the down arrow next to the offending comment and click 'Report'.